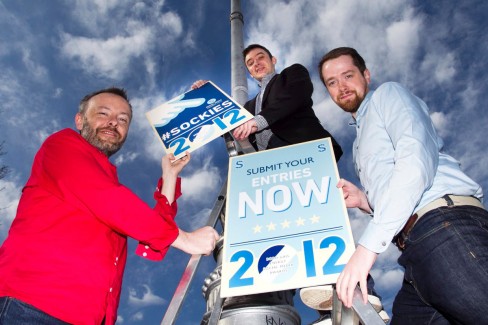 The finalists of the 2012 Bord Gáis Energy Social Media Awards have been announced, with companies like Dublin Zoo, Vodafone Ireland and Today FM among those shortlisted.
As usual, the #sockies organisers embraced free nominations and received double the number of entries on last year's inaugural event by deadline day on March 30. Nominations were received from over 200 individual Irish companies and organisations and were shortlisted by a panel of over 100 judges.
"The awards aim to recognise talent in online interaction, engagement and innovation and highlight best practice and importance of social media in business." – #sockies
The event organisers also noted the growing quality and use of video in social media marketing and that, unsurprisingly, Facebook categories received the highest number of nominations.
The awards will take place on May 17 in the Mansion House, Dublin and cheap tickets are now on sale. The finalists are as follows:
Facebook Page for a business (Non-campaign)
Facebook Page for a business (Owner managed)
Facebook Page for non-profit/organisation
Integrated Facebook campaign (Page, app and ads)
Video/Video campaign (Non-broadcast)
Blog of a business
Best business Twitter account (Marketing, sales)
Best business Twitter account (Support, CRM)
Best business Twitter campaign
Best use of social media in an election
John Paul Phelan General Election Campaign
Seán Gallagher Presidential Campaign
Michael D Higgins Presidential Campaign
Irish Labour Party General Election Campaign
Best use of social media for a sponsorship campaign
Electric Ireland and Electric Picnic
SPAR SPARTAN Challenge
Kaspersky Lab and Felicity Aston
Meteor and Choice Music Prize
O2 Ireland – Irish Rugby
Bank of Ireland – Blue Magic Leinster Rugby
Aviva and Aviva Stadium
Vodafone Ireland – Dublin GAA Hill 16
Innovative use of social media
Gaza TV News
RTE's #HowToBeIrish project
Electric Ireland #sharetheenergy
11890
Dine in Dublin – Dine at your Desk campaign
Today FM – Today FM's Shave or Dye on Social Media
Brando Digital – #tweetsweets
AllAbout
Customer care using social media (Integrated)
Electric Ireland
o2 Ireland
Today FM
AIB
Blacknight
Vodafone Ireland
Use of social media by State body
Bord Bia
Science Week
Bord na Móna
Iarnrod Eireann
Defence Forces
Fáilte Ireland
National Lottery
Bus Éireann
Road Safety Authority
Integrated social media campaign
Electric Ireland
Bord na Móna – The Short Story of a Long Night
Meteor Choice Music Prize
Funky Christmas Jumpers
Defence Forces
RTÉ – HeadsUp Movie Awards
All About Business, Bank of Ireland + Dragon's Den
Tanora – A Cork Legend
Social media effectiveness
Tour America
Toyota Ireland – Yaris "Sweetspot" Facebook Campaign
Heinz Ireland
Eristoff Vodka
Kerrygold
Vodafone Ireland
Northern Ireland Tourist Board
Lidl Ireland
Smirnoff
Online PR campaign
STAR Translation Services
OMG! Jedward's Dream Factory on TRTÉ
Lokofoto St. Patrick's Day
Captain Morgan – Dare the Captain
Best mobile app (Marketing)
Agency of the year
WHPR/Ogilvy
Simply Zesty
Eighty Twenty
Creative District
Irish International
Blue Cube
MediaVest
Starcom
Cybercom
Ican